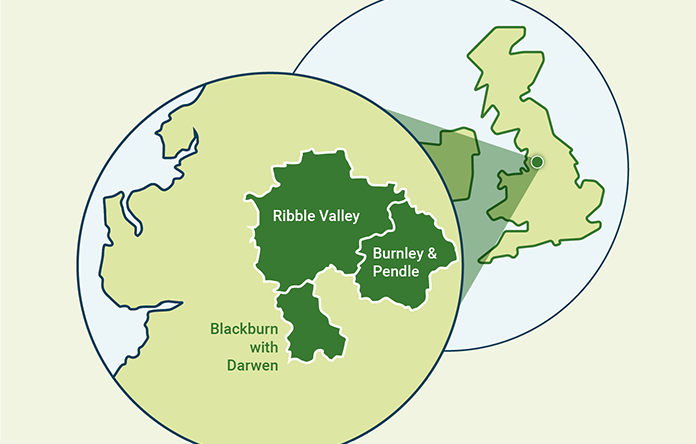 We had the privilege of hearing Georgina Rush, Senior Mental Health Practitioner and Bryan Pierce, Clinical Team Lead, from the East Lancashire Child and Adolescent Services (ELCAS) speak at the Open Forum "Right Care: Right Time" conference. Georgina and Bryan described the support that their team offers in primary, secondary and SEND schools across the Blackburn with Darwen area.
Mental Health Support Teams (MHSTs) are relatively new across England, initiated after the Government Green Paper of 2017 "Transforming children and young people's mental health provision" which recognised that early intervention for young people is paramount. ELCAS is a specialist mental health service for children and young people run by East Lancashire Hospitals NHS Trust. It offers a number of different services such as specialist outpatient, intensive support, diabetes and primary mental health services. The main specialist outpatient service is provided by teams across three areas; Burnley and Pendle, the Ribble Valley and Blackburn with Darwen..
Children and young people's mental health teams have been rolled out in waves, with the overall aim to cover 35% of schools in England by 2023 and by 2024 to have 500 MHSTs active within school and college settings.
The core functions of children and young people's mental health teams:
To provide direct one-to-one support, in the form of evidence-based interventions, to children and young people with mild to moderate mental health issues.
To support the Designated Senior Mental Health Lead in educational settings to introduce or develop their whole school or college approach to mental health and wellbeing.
To provide advice to staff in educational settings and liaising with external specialist services to help children and young people to get the right support and stay in education.
Bryan described how they use iaptus CYP to support them in managing their MHST services and to record data for these three functions. Read our case study below on how iaptus CYP is helping ELCAS on their journey to best practice, routinely recording outcomes and reporting data nationally.
Setting benchmarks and reporting for MHSTs
Part of the MHSTs' responsibilities is to assess and set benchmarks against each function of the service to ensure the continuous improvement of children and young people's mental health.
ECLAS use the iaptus CYP digital care record system which helps record on all three functions of the MHST.
One-to-one support: The system can be tailored to reflect a service's treatment pathways and manage appointments for therapists and practitioners. It enables them to set goals with young people and use outcome measure questionnaires within iaptus that show results on-screen immediately for discussion with a young person and their family. This supports ELCAS in their commitment to implementing best practice in the use of routine outcome measures (ROMS) and feedback from children and young people to improve service delivery and patient experience.
Whole School Approach: One of the key benefits of iaptus CYP is that it is cloud-based, enabling teams working across community and education settings to securely access records and record the support they offer to pupils, parents and school staff.
Working with school staff and external specialists: iaptus CYP supports MHST providers to monitor their caseload, manage clinical supervision and coordinate with specialist services in their area. Service managers can use iaptus CYP to create reports to inform decisions on how best to provide the right support to children and young people at the right time.
Georgina and Bryan will be our guest speakers at our next virtual event for Mental Health Support Teams on the 12th July 2022. Reserve your free place today to hear more expert advice on best practices for MHSTs.