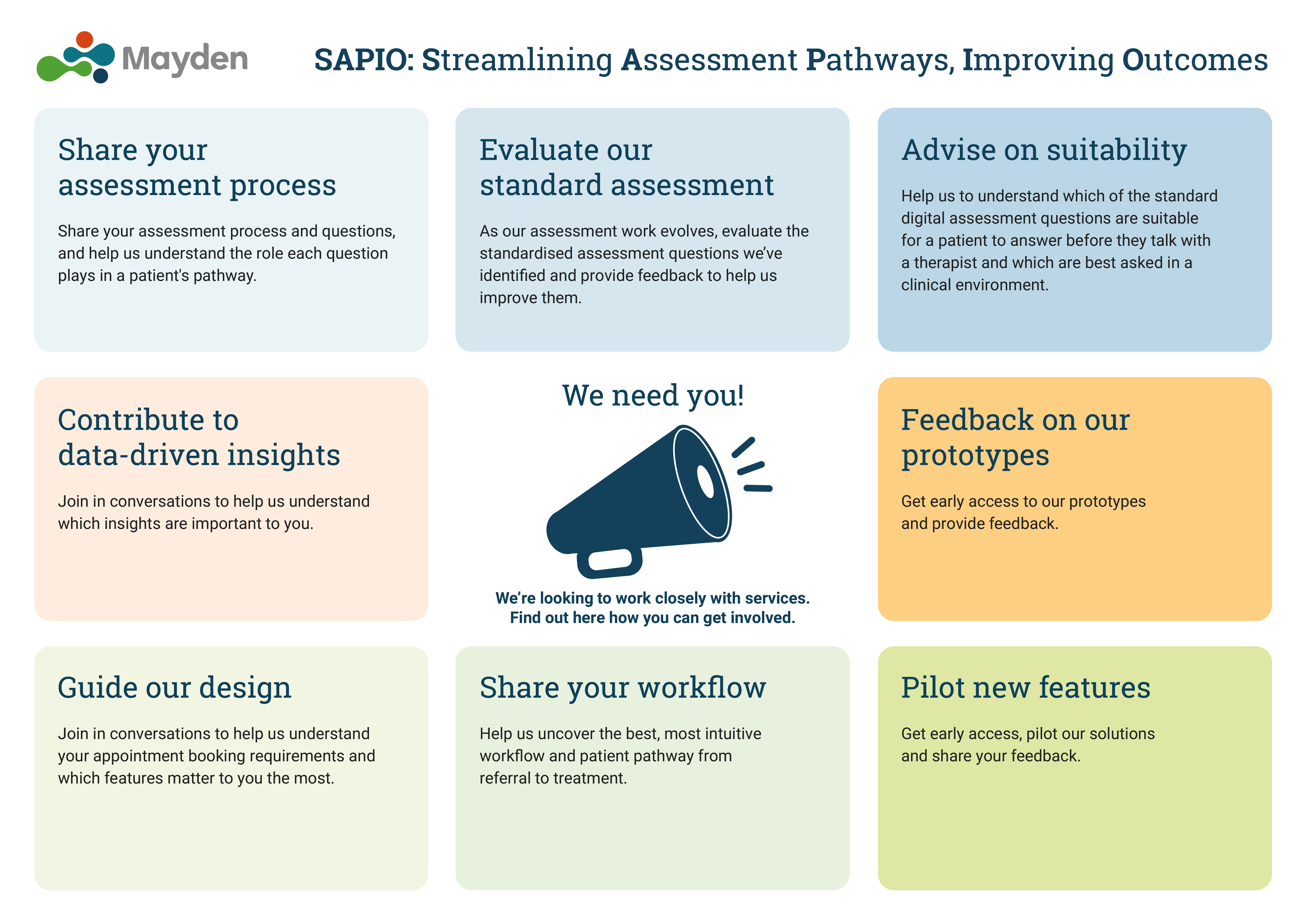 At Mayden, our life's work is creating digital technology that changes what's possible for clinicians and patients. We believe that the best solutions emerge when people come together to solve a problem.
The NHS Long Term Plan has committed to expanding IAPT provision from around 1 million in 2018 to almost 2 million patients seen each year by 2024. To achieve this, system-level transformation will be required, and the plan signals that digital transformation will be key to meeting its objectives.
For these reasons, we are undertaking a project that aims to digitise and streamline the IAPT patient journey, from the point of referral to the start of treatment – including triage and assessment processes.
We're very grateful to Small Business Research Initiative (SBRI) Healthcare for the funding to support this truly groundbreaking project. SBRI Healthcare is an NHS England funded programme that provides funding and support to accelerate the development of new technologies that meet the needs of the NHS. The programme aims to improve patient care, increase efficiency in the NHS, and support the UK economy by helping smaller companies grow.
After successfully carrying out a feasibility study in 2018, under the 'Mental Health: New Models of Care' category, we are delighted to be continuing our work in this area through a Phase 2 project, also funded by SBRI; Streamlining Assessment Pathways, Improving Outcomes (SAPIO) .
Working together with services, the SAPIO project aims to:
enable patients to arrange their own appointments which will reduce waiting times and administrative work, enabling more patients to be seen and improving the patient experience
streamline and digitise the assessment process, thereby reducing administrative work for services and decreasing waiting times for patients
support therapists by using historical data to provide signposting to treatment options that have been effective for patients with similar profiles
establish patterns of patient engagement through the use of predictive modelling, so that therapists can preempt patients at risk of dropping out and take action, reducing wasted appointments
Progress so far
During phase one of the project, we explored standardising and automating the assessment process as well as developing a proof of concept of a machine learning model. The model is designed to provide therapy teams with evidence-based insights to support treatment choices, based on the likelihood that a patient will recover for a given treatment type. A digital assessment has since been rolled out in an IAPT service in Cornwall, demonstrating this is possible in practice.
In phase two, we are now exploring the possibility of digitising the referral to treatment pathway; where a patient who self-refers to an IAPT service can complete all assessment information online prior to their first appointment. During this phase, we are also exploring how machine learning could offer treatment insights informed by historical data, to support therapists in their interactions with patients.
Economic impact
Automating the assessment process for over 1m patients could release more than £50m to the NHS. Also, machine learning could identify individuals who may benefit from digital interventions earlier, with estimated savings from increased adoption of digital therapy of £27m. Further work is needed to understand the wider economic impact of the project but initial analysis suggests this will lead to large cost savings and increased efficiency. If waiting times can be reduced, and speed and reliability of recovery improved, benefits to the individual and society are substantial.
We can't do this without you
We'd love to hear from NHS and private providers of adult and CYP mental health services that are interested in working with us on this project. You may have as much or as little involvement as you have time for.
We are currently seeking input on three key areas:
assessment pathways
data driven insights
patient booked appointments
We're grateful to the IAPT services that have already expressed interest in being involved in the SAPIO project.
If you would like to join them or find out more, please contact us at projects@mayden.co.uk
Download our latest white paper to find out more about the SAPIO project and the power of data to transform care in psychological therapy services.