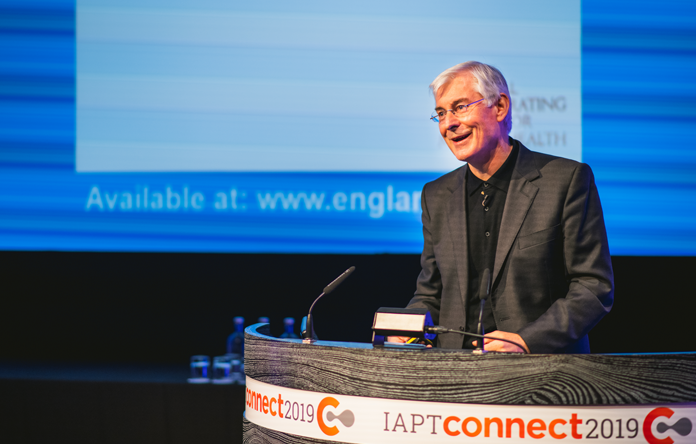 We were honoured to welcome David Clark to IAPT Connect 19 as our keynote speaker. David is one of the architects of the IAPT programme, as well as being its National Clinical and Informatics Advisor. This is the first of two blogs recapping his presentation.
David began his talk by congratulating members of the IAPT workforce on their extraordinary hard work over the preceding years. IAPT has been attracting international attention, with the world-leading scientific journal Nature calling the programme "world beating", and a New York Times headline describing it as "the world's most ambitious experiment to treat anxiety and depression". David also described the numerous other programmes of care that IAPT has inspired the world over – including in Norway, Lithuania, Israel, Australia, the USA, Canada and New Zealand.
David went on to talk about the goals of the NHS Long Term Plan, which includes an aim to expand the IAPT programme from treating 1.1 million patients to 1.9 million patients each year, by 2023. IAPT staff work incredibly hard, and David acknowledged that this target will not be achieved with hard work alone. He shared three key approaches that must be taken in order to meet this goal.
Firstly, as referenced in the NHS Long Term Plan, the IAPT workforce will need to expand, with more trainees being taken on across each local area.
Secondly, a thriving workforce is essential if IAPT is to continue to grow whilst continuing to provide quality mental healthcare. IAPT staff work hard every day on the wellbeing of their patients, and the same level of care must be provided to the staff themselves. The IAPT manual includes a section addressing this and recommends that clinicians and clinical leads within services produce and follow their own wellbeing programmes.
Finally, IAPT services should make greater use of digital interventions. David provided the example of students who may receive treatment from an IAPT service at their university, but who then go home during holiday time and are unable to maintain continuity of care. Models of care should evolve to take advantage of video conferencing technology as well as a variety of digital treatments, including virtual reality.
To watch David's presentation in full and download his slides, please join the IAPT Connect 19 group on LinkedIn. And don't miss The Mental Elf podcast interview with David, recorded live at IAPT Connect 19.
As part of his presentation, David described how patients are often referred to the IAPT programme even if their conditions are not treatable within it. As a result, significant time can be spent assessing individuals who are not appropriate for IAPT, which comes at the expense of those that are, and makes life more stressful both for patients and for IAPT teams. David highlighted that there are opportunities for greater use of digital platforms for patient referral and triage.
Download our latest white paper to find out about the work Mayden is doing with services to streamline and digitise the assessment process.