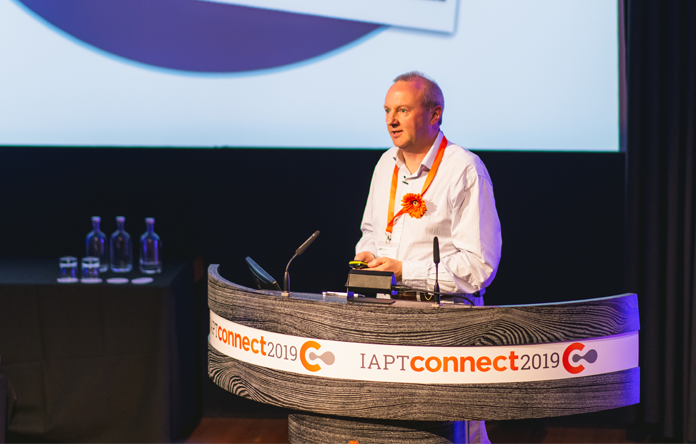 Mayden's Founder and Managing Director Chris May took to the stage at IAPT Connect 19 to share how technologies such as AI and machine learning can support IAPT services and therapists. To watch Chris's presentation and download his slides, please join the IAPT Connect 19 group on LinkedIn.
The NHS Long Term Plan has set out a target for IAPT to double in size by 2024 – an ambition that can only be achieved with a transformation in how care is delivered. It signals that digital technologies will be key to meeting its ambitious objectives, and senior NHS leaders at both national and trust level have demonstrated their intent to embrace a 'digital first' strategy.
At Mayden, our purpose is creating digital technology that changes what's possible for clinicians and patients. In his presentation, Chris described how Mayden has received funding from SBRI Healthcare to undertake a groundbreaking new project, Streamlining Assessment Pathways, Improving Outcomes (SAPIO). The project is exploring how data and technology can inform and enhance the interaction between therapist and patient, resulting in faster treatment, more choice and improved outcomes for patients at scale, while also generating significant cost savings.
SAPIO will research and test the efficacy of technologies including machine learning – created in combination with clinical input, historical data analysis and NICE treatment guidelines – to support therapists in delivering care by digitising and streamlining the IAPT patient journey from the point of referral to the start of treatment.
IAPT's delivery of evidence-based care and its data collection are consistent and highly structured and routine outcome measures have been collected for every patient treated through the programme. Although standardised care pathways for treatment and an effective assessment are important components of IAPT, the programme does not currently have a standardised assessment process.
Chris outlined how Mayden is working with services to develop a standard framework that each service's existing assessment process can be applied to. Once assessment data is in a standardised format, predictive modelling could potentially be applied to provide therapists with insights on treatment options that have been effective for groups of patients with similar profiles. Chris showed examples of how different types of insights could be presented to therapists in a dashboard, providing additional insights to enable therapists to quickly consider treatment options.
To date, the project has received widespread support from clinicians. Mayden has developed first stage digital assessment software and is now working with a number of services to learn how it can be applied to their assessment processes. A prototype machine learning tool has been built based on five key variables in the IAPT dataset. Chris shared the results of testing the prototype algorithm which demonstrated it could predict whether or not a patient will recover from a given treatment type with precision greater than 90% and accuracy of 68.9%. This has the potential to increase recovery rates by 12.5% and improve outcomes by a further 5% for those that do recover. This will be tested with services in the coming months and further refined.
Download our latest white paper to find out more about SAPIO and the potential for data and technologies in psychological therapy services.
Chris highlighted how services could get involved in SAPIO by sharing their assessment process, evaluating the standard framework developed and advising on its suitability. Services were also invited by Chris to contribute to data-driven insights and give feedback on the prototype algorithm, as well as on how the insights it generates are displayed within iaptus.
Many services expressed their interest in contributing to the project at IAPT Connect 19. If you would like to join them, please contact Philippa Kindon at projects@mayden.co.uk
Don't miss The Mental Elf podcast interview with Chris, recorded live at IAPT Connect 19.