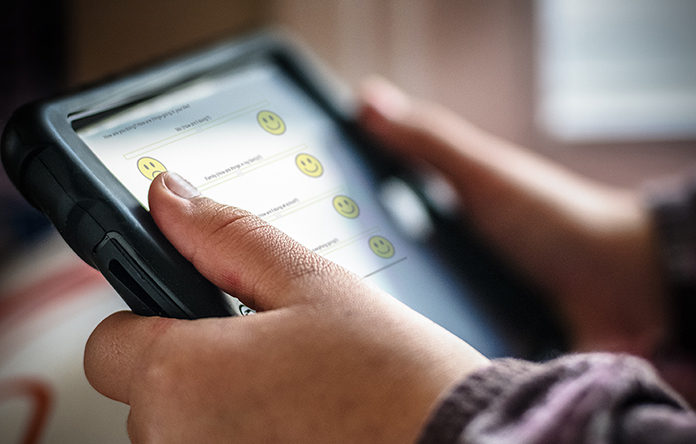 We are very pleased to announce that for the first time, children and young people's mental health services will be able to connect the young people in their care to online interventions using iaptus CYP and Prism.
Prism is the feature within the iaptus CYP digital care record that enables services to quickly and easily refer individuals for online therapy directly from within their clinical record, with progress notes sent securely back to the patient record for monitoring and reporting. It offers a safe, secure and streamlined way to enable the benefits of digital mental health support for children and young people. Therapists also benefit from reduced administrative burden and improved data quality – including activity reporting – from the automated flow of data.
We are delighted that SilverCloud Health is to be the first of our partners to offer online therapy support for children and young people via Prism. SilverCloud is a leading digital mental health company, enabling providers, health plans and employers to deliver clinically validated therapeutic care that improves outcomes, increases access and scale while reducing costs. The company's award-winning digital mental health platform is a result of over 17 years of clinical research with leading academic institutions.
Three SilverCloud programmes for children and young people will be available initially via iaptus CYP and Prism:
Space from Anxiety CYP is an online intervention aimed at alleviating psychological distress arising from anxiety related symptoms. This programme has been developed to help young people aged 15 years and over manage these feelings and the causes of them, ultimately offering welcome space from anxiety.
Supporting an Anxious Child and Supporting an Anxious Teen are online interventions based on CBT and built in conjunction with leading clinical experts. The programmes provide psychoeducation, tools and activities in a safe confidential space to help parents support their children or teens.
"We have seen the impact of the past year on the mental health services working hard to meet the needs of children and young people and their families," said Mayden Director Fiona Dawson. "We are proud to be able to provide digital tools like Prism that enable sustainable, efficient and cost effective care, where, when and how it is most needed."
Doug Hiscock, Senior Product Manager at SilverCloud commented:
"The partnership between SilverCloud Health and Mayden is an example of how children and young people's services will benefit from digital therapy supporting the growing mental health needs of our younger generation. One of the key drivers for adoption of digital programmes is the reduction of administrative time so that clinicians can spend more time supporting their patients. Both SilverCloud Health and Mayden have produced a seamless interface ensuring a single care record, increasing the clinical safety of the programme, and enabling monitoring of session-by-session measures. This will reduce unnecessary administrative time, increase access to treatment and ensure the SilverCloud platform captures all the data needed to enable services to provide the best support to their clients."
Mental health charity Northpoint Wellbeing worked with SilverCloud to develop and then pilot the use of the Space from Anxiety CYP programme. Helen McGlinchey, school services manager and strategic lead at Northpoint said:
"So many young people are struggling with anxiety. We saw the potential to use online interventions for the benefit of young people in our Leeds schools services and our Calderdale CAMHS service. It enables us to offer young people choice about their treatment with minimal waits at the point of referral. Our therapists can refer them to the SilverCloud Health programme and monitor their progress, all from within iaptus CYP which means we're able to support more young people."
If you would like to find out more about how iaptus CYP and Prism can help your service to support the children and young people in your care, please get in touch with your account manager via a support log. We look forward to hearing from you.