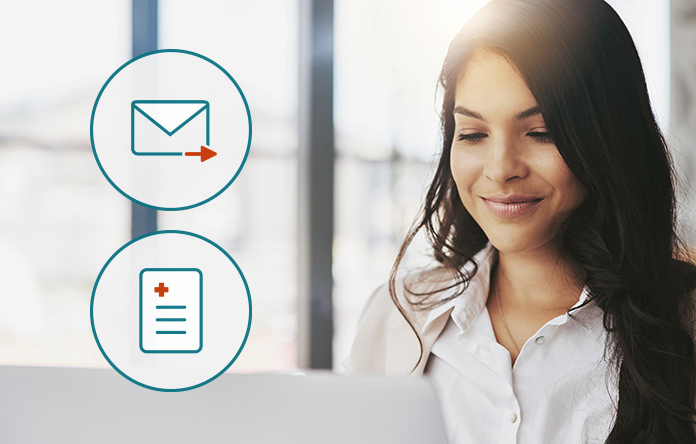 At Mayden we're always looking for ways in which we can streamline workflow across the digital care pathway, which is why we've been talking to services about how both the Hybrid Mail and GP Electronic Letters functionality within iaptus can support your service by improving processes at the touch of a button.
Our letters efficiency tools consist of two great features that complement one another to enhance productivity, improve efficiency and allow for a secure, seamless delivery of communication.
Streamline workflows across the digital care pathway with these two features:
1. Hybrid Mail
With Hybrid Mail, letters created in iaptus can be sent in one simple click. The time saving feature allows users to securely and digitally transmit letters that are easily incorporated into GP system workflow. With this feature enabled, services can save up to 50% on postage costs and save valuable time – as no printing, folding, stuffing envelopes or posting is required!
2. GP Electronic Letters
The GP Electronic Letters feature seamlessly sends letters digitally. The process ensures patient records are kept fully up to date and secure whilst the patient's GP remains informed about the treatment a service is providing. Sending letters electronically in iaptus avoids the need to physically post your letters, saving valuable admin time for teams.
We caught up with Kathryn Henegar, Data Quality and Office Manager at Midlands Partnership NHS Foundation Trust to learn more about their experience enabling GP Electronic Letters into the trust.
What value does GP Electronic Letters provide to your organisation?
"Good value incorporating savings on postal costs, savings on reduced use of printing ink, paper and envelopes and increased speed of communication."
What were your biggest challenges prior to implementing this feature?
"Time needed for collecting, collating into GP practice batches of routine letters to be sent weekly which was a time-consuming task, taking away administrators from other tasks, but necessary all the same."
How does this feature support the overall digital care pathway for your service?
"It supports it well and also our corporate aims of being more paper-light across all services."
Both the Hybrid Mail and GP Electronic Letters features have been proven to significantly reduce postage costs and improve productivity levels with regards to spending less time on administrative tasks allowing for more time to focus on delivering patient care.
If you're a current user of iaptus and are interested in finding out more, please raise a support log with your Account Manager. Alternatively, if you would like more information on how iaptus can support your service then get in touch via the contact form and a member of our friendly team will be happy to help.