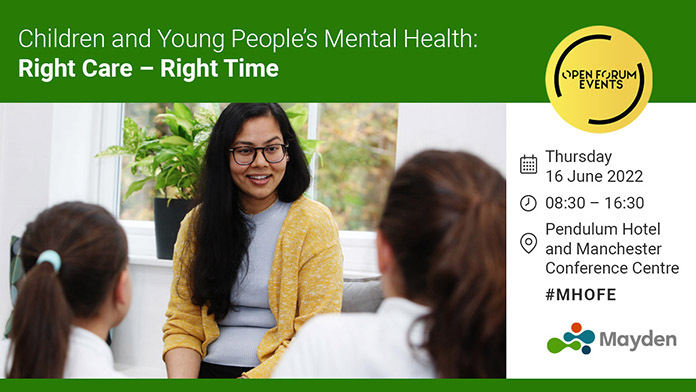 Mayden is delighted to be the headline sponsor of Children and Young People's Mental Health – Right Care: Right Time, the conference hosted by Open Forum in Manchester on 16th June.
The conference will explore the factors affecting the mental health and wellbeing of the younger generation and how they can best be supported. Throughout this one day event, clinicians and service teams working with children and young people will have the opportunity to hear from expert speakers discussing best practice. The day will be a great opportunity to share learning and network with one another.
Join us for our Lunch & Learn on the day!
We will be hosting a Lunch & Learn event, kicking off at 13:45 at the Mayden stand in the Networking Area. Grab yourself a plate from the buffet and join us for an illuminating talk about our product, iaptus CYP and how it can support your children and young people's mental health service.
The first 10 people to sign up will also be given a free sustainable, bamboo lunch box, so book your place today!
The agenda is jam packed with speakers from front-line services including Georgina Rush, Senior Mental Health Practitioner and Bryan Pierce, Clinical Team Lead at ELCAS, ELHT (NHS) speaking on ​​"The Development of a Transition Package for Year 6 Pupils in Blackburn with Darwen", Professor Joe Rafferty, Chief Executive at Mersey Care NHS Trust speaking on "Addressing Children and Young People's Mental Health Provision" and Dr. Laura Coulthard, Designated Clinical Officer – Named SEND Contact for Health – NHS County Durham CCG on "The Language of Autism Project".
The agenda for the day will also feature case studies and interactive engagement between speakers and audience through question-and-answer sessions as well as enlightening presentations from a range of expert speakers.
You can find out more about the day's agenda and speakers here.
iaptus CYP supporting Children and Young People's Mental Health Services:
Mayden is a health tech company whose life's work is creating digital technology that changes what's possible for clinicians and patients. Our iaptus CYP software is used by 60 organisations across the UK, including NHS trusts, local authorities and charities, to support their NHS-commissioned community CYPMH and school mental health teams. The system is flexible and customisable to service care pathways and provides tools to help services run with efficiency, report nationally and monitor outcomes.
If you would like to find out more about how iaptus CYP can support your service, please get in touch today.