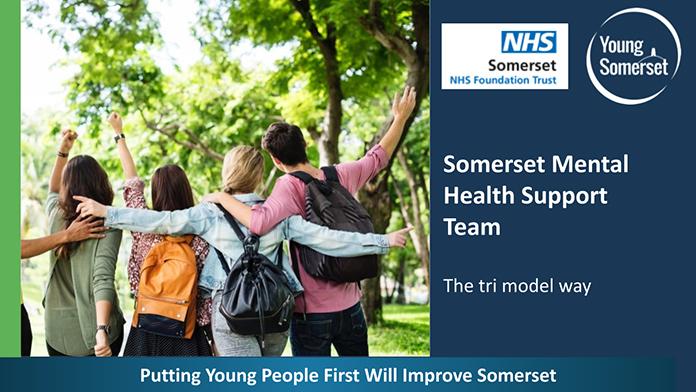 Mayden recently hosted a virtual event for Mental Health Support Team (MHST) providers in education settings. We heard from three fantastic guest speakers: Sarah Cox (Service Manager, Mental Health and Wellbeing at Young Somerset), Lisa Farley (Head of Community Wellbeing at Young Somerset) and Kate Gallagher (Clinical Lead for Mental Health in Schools Team at Somerset NHS Foundation Trust).
Young Somerset and Somerset NHS Foundation Trust established their Mental Health Support Team as a trailblazer site in 2019, working in a tri-model partnership alongside Somerset County Council. Sarah, Lisa and Kate joined us to speak about their journey and share some of the bumps in the road they have faced in implementing the service in schools.
Watch our short video and read on to find out more
An Overview of the Somerset MHST service model:
Young Somerset employs Education Mental Health Practitioners (EMHPs) and Children's Wellbeing Practitioners, with both roles supported by assistant practitioners. This differs from some MHSTs where the team is employed directly by the local NHS trust. Somerset NHS Trust employs the Senior Mental Health Practitioners, Practitioner Supervisors, the Whole School Approach Practitioners as well as the Clinical Leads. Somerset County Council provides both teams with an Educational Psychology Service and work closely with their public health colleagues and the general education service as a whole.
Overcoming challenges as an MHST
Somerset MHST helps support every young person across each school they work with; offering one-to-one support (low intensity CBT), supporting the Whole School Approach, group work for parents as well as staff wellbeing sessions and training.
So, what sort of challenges have Somerset MHST had to overcome?

1.Establishing awareness of the MHST service among schools
It's important to get your identity as an MHST out there, so that every member of each school community knows that they are a school that offers MHST support and what's on offer. Young Somerset found that it helps to be very clear about the remit of their MHST and where they can and can't provide support, while signposting schools to other services and people that might be able to help where needed. Somerset MHST have worked well to encourage schools to take an active role and help Mental Health Leads to engage with their service.
2. Staff recruitment, retention and training
Like many MHSTs, the Somerset team has found that staffing has been a key challenge. Finding trainees has been easy as there is an abundance of people who are really excited by the EMHP role. However, recruiting already qualified EMHPs in Somerset has proven to be a challenge. Retention has also been one of their biggest bumps in the road because it's still such a new role and there's high demand for qualified EMHPs. The team believes that they need to offer structured career progression in order to retain staff.
Now, Young Somerset puts in place training agreements with the trainees over two years, so they can really help to embed them into the service. Young Somerset have also been looking into career progression for EMHPs and have put in place some salary banding for the practitioners, in order to help staff retention. They're considering how to provide a consistent offer that might replicate what is available in other roles.
3. Working across two different patient record systems
The team highlighted that working across two systems presents challenges for recording and reporting data for the services they provide in partnership. Somerset Foundation Trust uses the RiO Electronic Patient Record (EPR) and Young Somerset uses Mayden's digital care record, iaptus CYP.
This is a common challenge for healthcare services where digital tools to support care need to communicate with each other. Mayden has a commitment to interoperability, working with over 30 partners, including RiO. We recognised this challenge for psychological therapy services, so we are introducing an in-context view between our system and RiO which we will be making available to Children and Young Peoples (CYP) mental health services.
Moving forward as a MHST: recommendations from Young Somerset
Service managers should consider taking the Children and Young People's IAPT Leadership Course, a fantastic programme that our Young Somerset speakers highly recommend.
Re-engage schools with your MHST as we move into a post-covid world and take opportunities to build relationships with school mental health leads face-to-face at meetings and events.
Look for places, such as online portals, where you can share learning resources for your EMHPs and support them to track their continuing professional development.
Develop a practitioner handbook for your whole mental health and wellbeing team. It could be a really valuable asset for new trainees to learn processes and understand what it is your service is currently doing.
Consider developing an app for young people's engagement with your MHST's interventions creating a place where they can access their home tasks and instant MHST support.
We would like to thank Sarah, Lisa and Kate for sharing their insight and providing their approach to the challenges that so many MHSTs are facing.
Our iaptus CYP system is flexible and customisable to service care pathways and provides tools to help services run with efficiency, report nationally and monitor outcomes. If you're interested in learning how iaptus CYP can support your service, please sign up to our next webinar on 30th June 2022 where we take you through a brief introduction to the iaptus CYP digital care record system and how it can support CYP services.