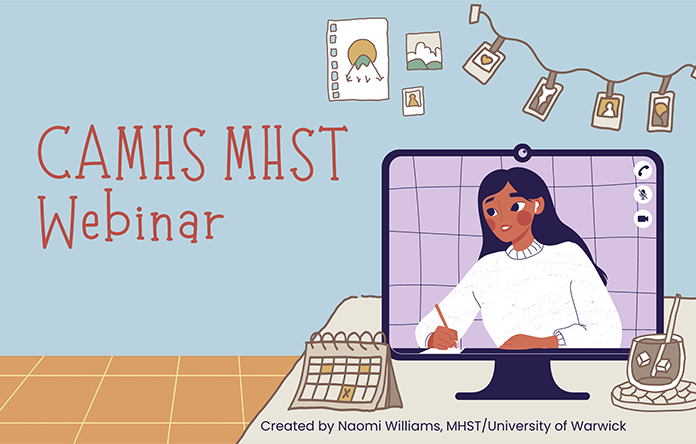 In our last Sharing and Learning webinar for those working with children and young people (CYP) in education settings, Nottinghamshire Mental Health Support Team (MHST) discussed how they have adapted their service to better support neurodivergent children and young people.
The webinar covered examples of practice that can support neurodivergent CYP such as using the 'universal design for learning' method, adapting classroom environments and promoting a supportive classroom culture. You can read more here.
You can watch the full webinar here:

Naomi Williams, Clinical Specialist, Lucy Fielding, Specialist Practitioner and Jude Edwards, Educational Mental Health Practitioner (EMHP) have collected your questions and put together their answers to provide you with further information and guidance.
Q – I'd like to hear more about Acceptance and Commitment Therapy (ACT) and the evidence for this approach for neurodiversity
A – Nottinghamshire MHST:
Acceptance and commitment therapy (ACT) has accumulated an increasing evidence-base for a broad range of mental health issues, as well as being effective for those with ADHD. This review aimed to give a synthesis of the studies, so far, focusing on the usefulness of ACT approaches among individuals having ADHD:
There's a few children specific studies underway but generally ACT is accepted as an effective intervention for ADHD (regardless of age). I think for kids, it's more easily accessible as a concept as it's less wordy and more generally playful.
Q – Would I be able to have a link to to a sensory checklist please?
A – Nottinghamshire MHST:
Please find the sensory checklist below:

Here are a few more useful links:
Q – A lot of the work you are doing seems to be framed around sensory integration theory, do you have a qualified sensory integration therapist or occupational therapist that works in your team to advise around this?
A – Nottinghamshire MHST:
As we're not delivering sensory integration therapy or any sensory integration direct programmes or one to one input, there is not a need for a Sensory Integration (SI) therapist on the team. All the information is generic SI advice for parents, which can be found in many SI books written for parents.
Having Occupational Therapists (OT), or other allied health professionals (SI isn't OT specific and the current push is to explore opening it up for all professionals), who have been trained in SI theory in the SP role can be useful for MHSTs in general. To clarify, we have a SP on the team who is an OT and SI trained and think it is important to highlight we are sharing mainstream broad sensory processing information and not specialising into sensory integration theory.
Q – I think for children with Neurodiversity, the assumption is that mental health issues are due to their condition so they are signposted elsewhere and deemed not appropriate for MHST.
A – Nottinghamshire MHST:
Very good point, please see research which is ongoing with Naomi Williams, alongside a survey flyer where CAMHS clinicians can have their say opening 6th November 2023.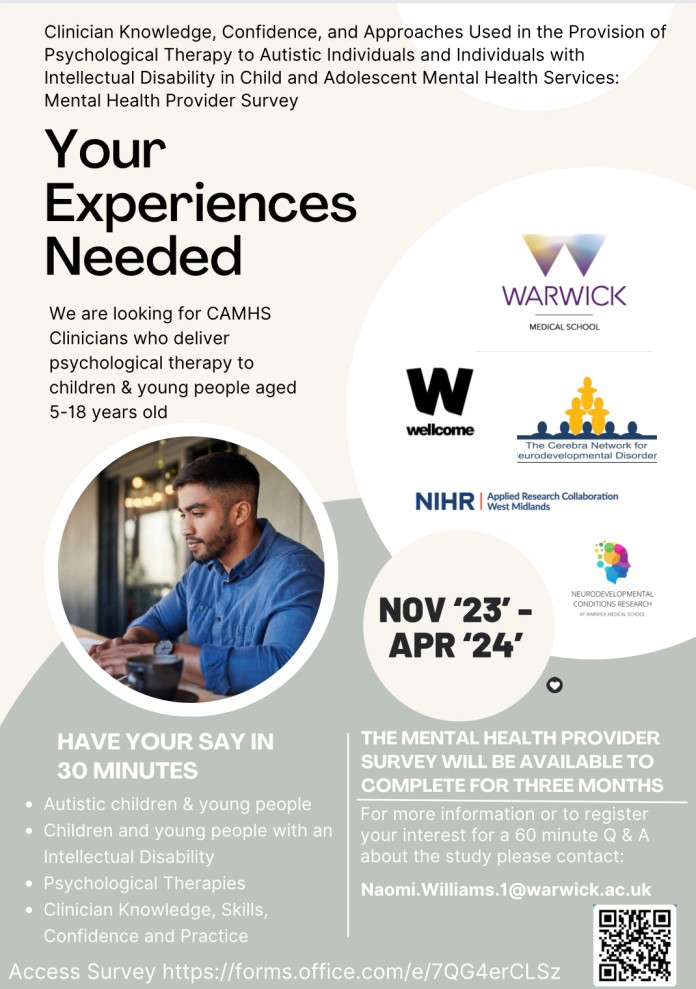 Q – Are you able to share links to the training for Mindfulness CBT please?
A – Nottinghamshire MHST:
As part of Nottinghamshire Healthcare Trust we are a part of Nottingham Centre for Mindfulness they are part of a larger collaborative which can be found here:
Q – How do you find mindfulness is accepted in the secondary school age group? Is the mindfulness specific to neurodivergent people? For instance, sitting still and focusing on breath can be challenging for people with attention issues. can you send links for mindfulness CBT?
A – Nottinghamshire MHST:
Please find the link above in the previous question. I would recommend MBCT for the older school/college age groups, there are adaptations of MBCT for SEN and resources can be found online. We are currently researching an adapted version of MBCT for youth but this is in the early stages. Currently we are delivering MBCT D for Staff, Parents and mindfulness adaptations as part of the DBT for adolescents intervention.
Q – Can you recommend any training that will help us support CYP, staff and parents? How to support staff in schools that are effective in changing perspectives and looking at the CYP as a whole or raining that challenges our own thinking.
A – Nottinghamshire MHST:
Anna Freud National Autism Trainer Programme (although the focus is on autism, this can easily relate to all Neurodivergence in changing perspectives).
Q – Very informative webinar – anything related to school nursing would be useful.
A – Nottinghamshire MHST:
Thank You! All information is useful regardless of the profession, this will allow consistency across all services.
Q – What Routine Outcomes Measures (ROMS) do you use please?
A – Nottinghamshire MHST:
Currently we use RCADs, SDQs, CGAS, ORS, SRS.
Q – Training for the Senior Wellbeing Practitioner (SWP) role includes adaptation of low intensity practice for CYP with neurodivergence including Autism and learning disabilities. What impact will this have on the support MHSTs can offer for neurodivergent CYP?
A – Nottinghamshire MHST:
This is a brilliant step forward, our recommendation would be to ensure that Neurodivergence still remains the whole team's responsibility to ensure that inclusion is not left behind and individuals are not separated from the main service offer.
Thank you.
Get in touch:
Naomi Williams, Naomi.Williams.1@warwick.ac.uk
PhD Programme Fellow/Clinical Specialist.
Midlands Mental Health & Neurosciences PhD Programme for Healthcare Professionals.
Mental Health Support Team, Nottinghamshire CAMHS (Child & Adolescent Mental Health Services). Nottinghamshire Healthcare NHS Foundation Trust
More helpful resources:
Support your service:
iaptus CYP digital care record is designed to support psychological therapy teams in Children and Adolescent Mental Health Services (CAMHS) settings and other NHS commissioned services. The system ensures the smooth running of your service and evidences performance.
Run all aspects of your service efficiently and choose from a range of tools to help reduce wait times and DNAs, manage referrals, report nationally and monitor outcomes.
Easily record monthly data for the MHSDS, as well as reporting to local commissioners and other funders for future procurement.
Record a young person's interaction with practitioners from referral through to discharge. Set goals with young people and enter ROMs in sessions.