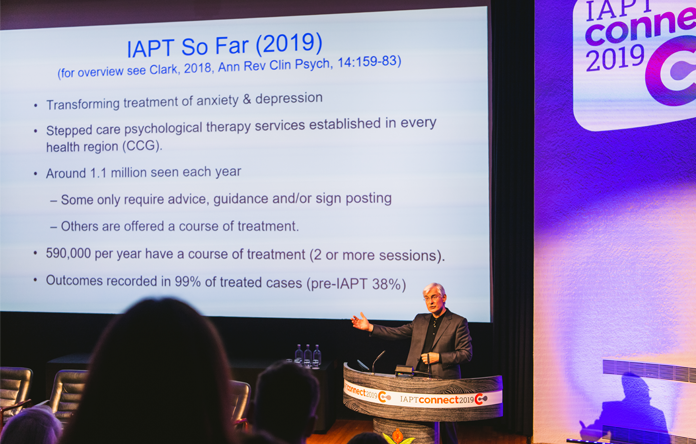 Following our first blog about David Clark's keynote presentation at IAPT Connect 19, here's more of the information he shared about IAPT's achievements in the 11 years since it started. David is one of the architects of the IAPT programme, as well as being its National Clinical and Informatics Advisor.
"The NHS is so proud of what you've all achieved."
David highlighted that there have twice been commitments to expand IAPT and commented that it is highly unusual for this kind of investment in a social programme to take place across changes in government. This is largely thanks to the wealth of data that is collected within the programme, which demonstrates its efficacy. Very few other services in mental health do this. For more detail, see David's article on Realizing the Mass Public Benefit in IAPT in the Annual Review of Clinical Psychology.
Session by session outcomes monitoring
David described that IAPT is a work in progress, with services now in every area of the country and every CCG. Within the programme, outcomes are routinely collected during appointments for all patients who have a course of treatment (two or more sessions). As a result, IAPT has collected data on around 590,000 patients per year – that's 99.4% of the those people treated each year.
This is, David said, "An extraordinary achievement and a reflection of the dedication of all of you who work in IAPT". 
Stepped care
IAPT is a stepped care model with 35% of patients receiving low intensity treatment only, which includes guided self-help, online therapy and psychoeducation groups. A combination of low and high intensity treatment is received by 38% of patients, while 26% receive high intensity treatment only. Overall, 73% have some low intensity treatment while 64% have some high intensity treatment.
Treatments
David emphasised that IAPT is not just a Cognitive Behavioural Therapy (CBT) programme, and that it is important that a range of treatments are available. For low intensity treatment, CBT is offered; while for high intensity treatment, NICE recommends CBT for anxiety disorders as well as five different treatments for depression. Today, 93% of IAPT services provide patients with a choice of high intensity treatments for depression.
Outcomes
Nationally, IAPT is achieving reliable and clinically significant improvement in around 70% of patients. Recovery is achieved in 52% of those patients, defined as those who drop out of the clinical range for their anxiety or depression. David explained that it has been a long journey for the IAPT programme which has climbed from a recovery rate of 37% in 2009 to 52% in 2019, which is above the 50% national target.
Lower recovery rates are seen in the BAME community, however those figures are rising and have now reached 49.9%. David referred to the IAPT Black, Asian and Minority Ethnic Service User Positive Practice Guide.
David stressed the importance of public transparency on outcomes to demonstrate that we have collected data and learned from it – for the benefit of the public, for clinician awareness and for service improvement. You can read more about this in his paper for The Lancet.
The Common Mental Health Disorders Profiling Tool shows clinical outcomes and the average number of sessions for every IAPT service in the country for all clinical conditions, and shows that variation across services is decreasing over time. The gap between the best performing services and the least well performing services has narrowed significantly over the last four years – a remarkable example of service transformation. "You've succeeded in reducing regional variation," David said.
Lessons from IAPT services
Those services in areas of social deprivation tend to have lower than average recovery rates, but the effect is much reduced when you look at the quality of the service. David gave the example of two areas – Windsor and Slough – vastly different in terms of social deprivation but served by a single, well-funded IAPT service. You can read more about transparency about outcomes in IAPT in his paper for The Lancet.
The future of IAPT 
The NHS Long Term Plan includes an aim to expand the IAPT programme from treating 1.1 million patients to 1.9 million patients each year, by 2023. IAPT staff work incredibly hard, and David acknowledged that this target will not be achieved with hard work alone. Read more in our previous blog on his presentation.
To watch David's presentation in full and download his slides, please join the IAPT Connect 19 group on LinkedIn. And don't miss The Mental Elf podcast interview with David, recorded live at IAPT Connect 19.