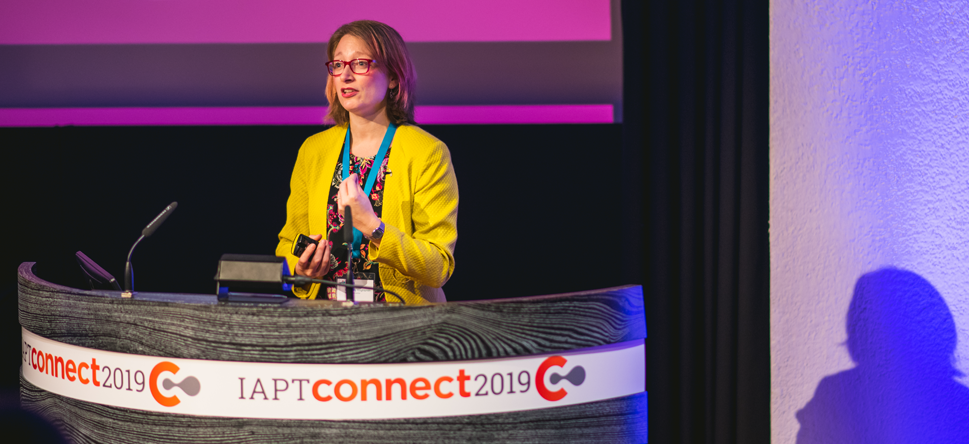 We were honoured to welcome Dr Pooky Knightsmith to IAPT Connect 19 to give the event's opening remarks. Pooky is the inspiring, internationally recognised face of child and adolescent mental health, an author, and the Vice Chair of the Children and Young People's Mental Health Coalition. She joined us in her capacity both as a mental health professional and as a recipient of mental health care.  
Pooky dedicated her opening remarks to the power of human connection. She might easily have been a patient that was given up on in the past, she said – but she has been fortunate.
Pooky began by explaining that we might assume that technology creates barriers between us and those we care for, and she invited the audience to instead think about how technology can be used as a tool to enhance and strengthen connections between therapist and patient. 
She went on to invite those in the audience to consider three questions…
1. Does your patient know you care?

For a therapist, the fact that they care about their patients may seem obvious. After all, they have dedicated their careers to helping people. But, Pooky said, our patients don't always know that we care. When people are at their most vulnerable they can find it hard to imagine that anyone would care about them. 
Pooky explained that staying physically and emotionally present with our patients is particularly important when we work with people who have experienced trauma, or who are telling their stories for the first time. She invited us to be prepared to run towards distress, not away from it – because it's in those moments that we are able to build strong connections and to truly make a difference. 
2. Do you know what scares your patients?

Often patients bring fears and experiences to the room that the therapist is not aware of. It may be that you are the first person they have ever opened up to about a trauma and they are afraid as a result. Perhaps there's something at home that scares them, or the journey to the treatment room itself. Pooky invited us to consider how therapists can create an environment that is safe, so that patients feel they can share the things that scare them without fear of judgement.
3. What is good here?

Pooky encouraged us to consider the 'protective factors' that can help people even when they're facing the most difficult of situations. Everyone has at least one – a person or support that offers a glimmer of light in their life. Understanding this can help us to view our patients differently, which helps them to do the same. Pooky shared a personal experience of how significant it was for her when her therapist acknowledged her interest in climbing. The fact that her therapist recognised that she had taken up climbing as a hobby helped Pooky to feel that she wasn't defined only by her illness and that she could recover. 
In closing, Pooky said that human connection is often the thing that saves and change lives, even more than our many years of training. She invited us to continue asking ourselves these questions and sharing our thoughts with one another. 
Thank you again to Pooky for sharing her powerful story and inspiring insights at IAPT Connect 19. 
To watch Pooky's presentation in full and review her presentation slides, please join the IAPT Connect 19 group on LinkedIn. 
Don't miss the video Pooky created in which she shares highlights from the day and her interview on The Mental Elf podcast, recorded live at IAPT Connect 19. Pooky is on Twitter at @PookyH.