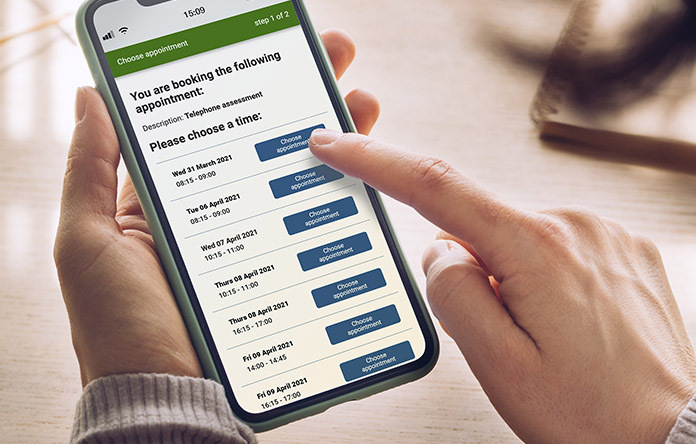 It's been one whole year since we launched our time saving, patient engaging and empowering online appointment booking feature.
With online appointment booking, services can offer patients the ability to book their own appointments online, at times to suit their schedule. We are thrilled that the feature has quickly become an essential part of our customers' workflow.
We caught up with Jasmine Hutton, Lead Psychological Wellbeing Practitioner at Somerset NHS Foundation Trust. She shared how online appointment booking has helped her service to improve processes and save valuable time.
"Overall, online appointment booking has made a huge difference to the running of our service and created a streamlined experience for our patients."

– Jasmine Hutton, Lead Psychological Wellbeing Practitioner, Somerset NHS Foundation Trust.
What challenges necessitated a change for your service?
The flow of getting new patient referrals booked in to be assessed wasn't working well for us due to staff shortages in our admin team. This was leading to available assessment slots not being booked and patients having to wait longer for an initial assessment. We wanted to find a way to streamline this booking process in order to make full use of our assessment capacity and to improve patient experience. We already use online self referral, so adding online appointment booking felt like a good way to stay inline with the online initiative.
How has the online appointment booking feature helped since implementation?
Our assessment slots now get booked up weeks in advance as opposed to slots not being filled.
Late cancellations are almost always rebooked whereas this would rarely happen before.
Our 'opt in' rate has increased.
Client wait times to be booked in for an assessment has reduced.
We have been able to set up lots of different booking templates to use in a variety of different circumstances (e.g. Step 2 assessment, Step 3 assessment).
We are starting to experiment using this to allow patients to book their own treatment slots too.
Can you share any metrics that show the success you have enjoyed since using the feature?
95% of our clients give consent for texts, allowing us to use online booking, thus reducing our administrators workload and allowing them time to focus on other essential tasks.
What have you been most impressed with?
The ability to customise 'welcome' / 'what happens next' message and use our own Trust logo and branding.
As the online booking manager, it's very quick to edit templates as and when needed once they are set up.
The ability to remind a patient to book if they haven't used the link by a particular point.
The ability to embed web links into the pages – this has allowed us to direct our patients to urgent support and crisis services from the first contact with our service.
For more information about this time saving feature please read our digital leaflet:

We're so pleased to be celebrating this feature's one year anniversary and we would like to thank Jasmine for her valuable feedback. If you have any questions on the implementation of online appointment booking, we'd love to hear from you. Simply raise a support log with your Account Manager or contact our features team today.