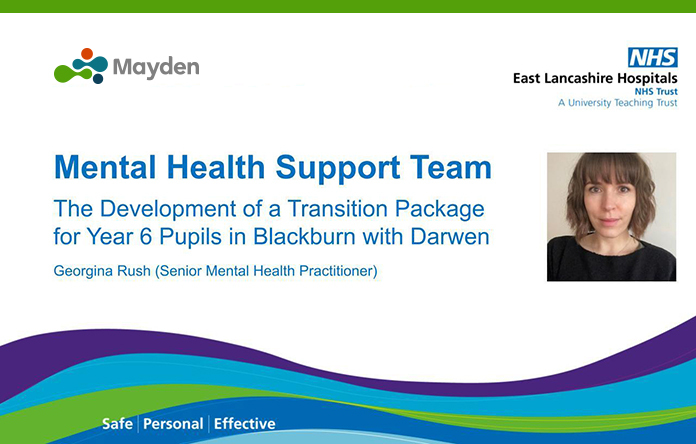 We were delighted to welcome Georgina Rush as guest speaker at our latest virtual event for teams supporting mental health in schools and colleges. She shared the experience of her Mental Health Support Team (MHST) in East Lancashire with a focus on how they have developed a support offer to help year 6 pupils prepare for transitioning schools.
Georgina is the Senior Mental Health Practitioner within the MHST at East Lancashire Children and Adolescent Service (ELCAS), part of East Lancashire Hospitals Trust (ELHT). Georgina works specifically within the Secondary School Team in Blackburn with Darwen, is a lecturer teaching on an Educational Mental Health Practitioner course and has worked across residential homes, forensic units and Children and Adolescent Mental Health Services (CAMHS). The MHST currently works with 17 Secondary Schools, 52 Primary Schools and 5 schools specifically for SEND students, also working closely with the core CAMHS teams at ELCAS.
In the webinar, Georgina discussed the development of transition projects in schools to help young people tolerate uncertainty, normalise worry and develop skills to navigate future transitions or change, specifically for year 6 pupils in Blackburn with Darwen.
The package of support for transition projects in schools;
An evidence based Self-Help workbook which outlines psychoeducation for anxiety and low mood, looking at worry management and behavioural activation.
The Primary School Team takes the lead on transitions, offering interactive assemblies, workshops and one-to-one assessment and intervention to year 6 pupils. The Secondary School Team then offers anxiety workshops for year 7 pupils to 'catch' those in need of support.
The MHST presents a transition 'live stream' assembly. So far they have done 5 sessions to 38 year 6 classes (approx. 1160 pupils), where year 6 pupils have the opportunity of a live Q&A with year 7 and year 8 pupils to better understand what to expect when transitioning from primary to secondary school. 75% of year 6's who participated were worried about the transition from year 6 to year 7. After the presentation this dropped significantly to 48%.
Here are some of Georgina's top tips for other teams looking to offer transition projects in schools:
1. Encourage the participation of young people – how do we know what young people want and need if we don't ask them? Ask them what they want and what works best for them. Georgina says that as part of a CYP IAPT service, this is built into their core principles.
2. Start even earlier in the school year then you think you need to – think about exam times, for example, and avoid those times when schools are really busy.
3. Include key people in the development of your transitions support package – particularly those people in schools that young people meet regularly. Georgina's MHST also invites parents and carers along to interactive assemblies and workshops.
4. Have shared language to support young people through their transitions – make sure everybody, including parents and carers, use shared language to better engage with and support the young person in your care.
To ensure the success of the transitions package it's important to collect data to show the impact that they are having. Georgina outlined that they receive a lot of qualitative data, such as feedback from young people and the education teams they work with. However, it's important for the MHST to provide quantitative data as well, including ROMS questionnaires, Goal Based Outcomes and survey feedback to track those changes over time.
Georgina described how iaptus CYP is helping them to collect and use data, and highlighted the challenge of collecting data on the whole school approach which iaptus CYP supports via the diary function.
You can find out more about East Lancashire Hospitals NHS Trust's journey to best practise here. 
Sign up for one of our upcoming iaptus CYP webinars to find out more and look out for our next virtual sharing and learning event for healthcare professionals working in education settings after the Summer holidays.