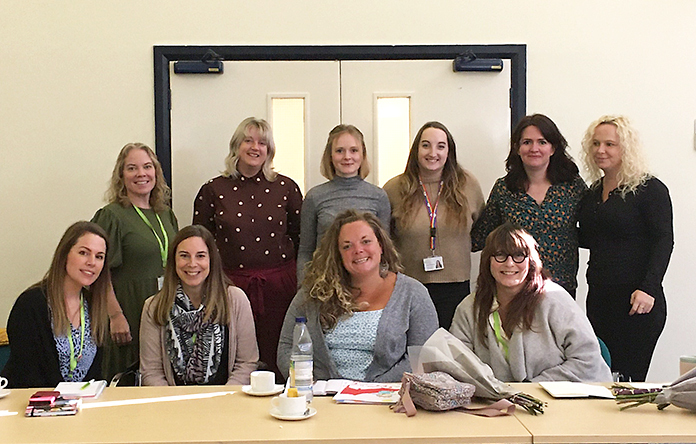 We recently hosted a webinar about Mental Health Support Teams (MHSTs) in education settings. We were delighted to welcome Laura Sowerby of Barnardo's as guest speaker. Laura shared her experience of leading a MHST in the Morecambe and Heysham area and supporting a MHST in Barrow. Read on for her advice and tips for those who are establishing early intervention support for emotional health and wellbeing in schools and colleges. If you'd like to join our next webinar, on December 2nd 2021, for services providing mental health support in schools, register here.
In March 2021, the government expanded the support available to children and young people. By April 2023, the additional government funding will see the number of mental health support teams in schools and colleges grow from 59 to 400. At Mayden, we are pleased to be supporting these services around the country who are using iaptus CYP to manage the digital care records of their MHSTs, including Barnardo's.
Mental Health Support Teams in Schools
Laura Sowerby is team manager of the Morecambe MHST which offers one-to-one and group interventions in 22 schools and colleges. The MHST covers a population of 8,000 children and young people aged 5-18 years and helps staff within schools and colleges to provide a 'whole school approach' to mental health and wellbeing. Laura also supports the MHST in Barrow.
Laura is a social worker with a background in child protection, tier 4 inpatient services and Child and Adolescent Mental health Services (CAMHS). She is now part of the Barnardo's North West Emotional Health and Wellbeing Service. Laura is passionate about working with children, young people and their families and supporting change within education. Laura's other passion is systems and data. She has been working alongside Mayden to use iaptus CYP to manage the MHSTs' service and to report data within Barnardo's and to NHS England. Our iaptus CYP system is a digital care record, used by NHS trusts, national and local charities for community mental health services for children and young people.

Mayden: Where is your Mental Health Support Team and which area does it cover?
Laura: My team is based in Morecambe, covering the Morecambe and Heysham community. We are a wave two MHST, started in January 2020. Our team is made up of myself, two senior practitioners – who have been trained in CBT – and four Education Mental Health Practitioners (EMHPs). We cover 22 schools and, within those schools, there are 15 primary schools, 2 special schools, 2 Pupil Referral Units (PRU), 2 secondary schools and a college. I also support the MHST in Barrow. The Barrow team covers 11 schools in total; 8 secondary schools, 2 special schools, a PRU and a college.
Mayden: How have you been building relationships with the schools, units and colleges in your area?
Laura: We started having meetings with them in March last year to listen to what the schools needed. We asked about their pupil population and what they think a Mental Health Support Team could do in their schools. And we've just kept embedding that. Our practitioners have gone into the schools and have built fantastic relationships across the board. Relationships are key to the MHST working well, not only in the schools but in the community as a whole. To embed our practise and provide the best support we can, we continue to have review meetings, planning meetings and discussions.
Mayden: What top tips would you share with other MHSTs to help them build good relationships?
Laura: I think for me it's about good communication. It's about talking, sharing ideas and being part of their community. My tips would be to listen, understand where the schools are coming from and collaborate with them. Have ongoing review meetings. Don't be afraid to go, "that didn't work did it?", "right, OK, let's change it, let's do something different". Share what you've learnt with your schools. As MHSTs we have to meet the needs of individual schools and diversify depending on what's going on in that particular school or college. So I think it's about constantly evolving and working together.

Mayden: And how have you been building relationships with your local CAMHS service?
Laura: I came from the CAMHS team in our area, so I have a very good relationship with our local CAMHS team. I think, in my team, we've instilled a practise of 'linking in' with the CAMHS service. We have clear conversations with them about our rationale and why we want the CAMHS service to evidence what we're doing. I think we've done this really well. Our practitioners link in regularly with the mental health workers in CAMHS. They have great conversations about referrals and why a particular young person may need a specialist service. When we meet with CAMHS and other services, we're able to share what it's like in schools and discuss any patterns that we're seeing. I would say we've got a really good relationship with our local specialist services.
Mayden: As a team establishing a new service, how has it been setting up your workflows and data management?
Laura: I'm a systems girl. I love data and so I'm keen to make sure we have good, clean data that we can use to help us see what we're doing in key areas. With iaptus CYP, I can get data at school level but also filter in the cases presented by age range. For example, I can see that there is a high percentage of 14 year olds that are being referred right now, for this presentation. I've done that for some schools and put the data into a graph and pivot tables. I get so excited when I can get that kind of information I need!
iaptus CYP gave us the flexibility to create our own care pathway for our MHST. Even now, two years on, our care pathway is growing and developing. We're still tweaking it to help us drill down into our data. We were quite mindful, when we were setting it up, of how user friendly it would be from a practitioner point of view.

Mayden: How is iaptus CYP supporting your work?
Laura: We use iaptus CYP to manage the information we need for reporting, and we can run the reports we need quite quickly. Iaptus CYP has also been useful in terms of clearly seeing where we were, where we are now and where we still need to go. It's helpful having an iaptus Account Manager and being able to amend our care pathways, depending on the needs and the service as well.
Mayden: What are you doing across the three functions of MHSTs; providing direct support to children and young people, supporting the education setting as a whole, and supporting the staff?
Laura: Yes, as well as the one-to-one work, the whole school approach is a big part of what we do. It's about changing certain environments, ethos and cultures. We're interested in how we can get to children earlier, before mental health issues start. And, very importantly, how can we support schools to do that? We want to be able to log and analyse what we're doing in different schools and see how that's working. We find that many of the schools are already doing some of the principles of the whole school approach but they don't realise it. It's great to help them see what they're already doing, hone that and then look at the areas we can work on as well.

We would like to say a big thank you to Laura who spoke at the 'learning and sharing' webinar we hosted for MHSTs in October. We were joined by MHST team managers, clinical leads, psychotherapists and EMHPs from MHSTs across the country. We are running the webinars quarterly, with a guest speaker each time.
If you'd like to join our next webinar on December 2nd 2021, for Mental Health Support Teams in School, register here.
What do you need to consider when choosing a good digital care record system for your MHST? You can find the information you need here.
If you're interested in discussing how iaptus CYP could support your service, please contact us via our online enquiry form or call us on 01249 701100.