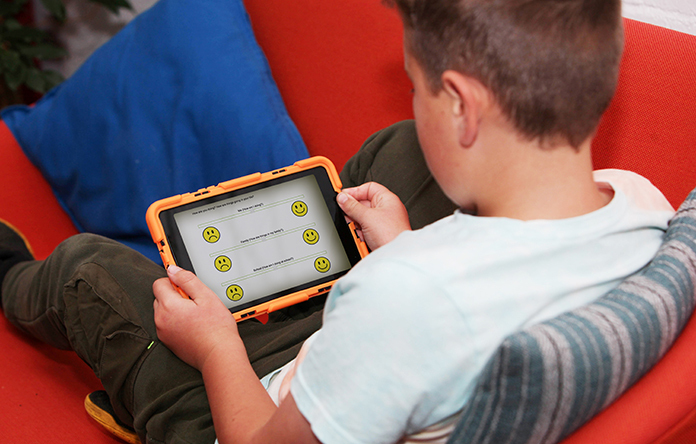 Children and young people's mental health services are growing and diversifying their service offers and many now offer digital options to young people in how they access and receive support. We spoke to Helen McGlinchey, Service Manager and Clinical Lead for Northpoint Wellbeing's schools service to find out how they are making digitally enabled therapies available to young people they work with in Yorkshire.
Watch our short video and read on to find out more

Interoperability: iaptus CYP and Prism partners
At Mayden, we're dedicated to creating digital technology that changes what's possible for clinicians and patients. As new digital options emerge, it's important that they work together to offer a continuous care pathway and ensure that quality of care is maintained. That's why we seek out opportunities to integrate with other systems and offer a platform for interoperability between iaptus and digital therapy providers.
The Prism feature in iaptus connects mental health services to digital therapy programmes, supporting them to diversify their care delivery and offer patients greater choice. We make digital therapy programmes from more than 20 partners available via Prism and last year, we added digital therapy programmes for CYPMH services with Silvercloud.
Prior to the pandemic, SilverCloud were developing CBT guided self-help programmes to support children and young people. They worked with Northpoint Wellbeing to pilot programmes for anxiety in their services in Yorkshire. As with many services, Northpoint Wellbeing have found that anxiety is a prevalent issue among the children and young people they work with and this has been exacerbated by the pandemic. They were keen to introduce the 'Space from Anxiety' digital programme to their service model.
"Anxiety has always been a prevalent issue in our services, even more so after the pandemic. Having a digital CBT-based programme for young people with anxiety felt such a helpful additional aspect to our service model. It's now very much an integrated part of our offer." Helen McGlinchey, Northpoint Wellbeing
Benefits of integrating digital therapies into your CYP or schools mental health service
A few of the key benefits of referring patients to digitally enabled therapies via iaptus CYP and Prism are:
Providing choice to young people who prefer digital options or want to be seen more quickly.
Facilitating speedy referral on to digital programmes and a continuous care pathway for the young people who opt to use them.
Reducing waiting times by offering immediate access to treatment to suitable young people.
Maintaining a single digital care record with progress notes and outcomes data sent directly back to the young person's record in iaptus CYP.
Enabling therapists to monitor and evaluate progress and use the data to inform their sessions with the child or young person.
Supporting the service as a whole to use the data to reflect on how and where digital care is most effective across cases.
Digital interventions can be integrated by service providers into their care pathways at different stages, working alongside the traditional face-to-face therapies they offer in community and education settings.
Offering young people the option of digitally enabled therapies soon after they are referred into their service means that they can receive support while they wait for face-to-face therapy. The young person can then have access to coping strategies and insights from the programme, before starting face-to-face therapy.
"Predominantly, it's early intervention at the front end of our service offer but it works so flexibly, for example if we receive a referral for a young person where they have an anxiety presentation and they're open to giving the digital anxiety programme a go. It is absolutely key for us in terms of managing waiting lists and works well for those who are on a waiting list for one to one therapy. We find that it helps them to use strategies and insight from the digital programme while they are waiting." Helen McGlinchey, Northpoint Wellbeing
If a service provider receives a referral for a young person struggling with anxiety, and the young person is open to trying the digital programme, they could be receiving care within a week of being referred. Digital programmes also offer young people the chance to access support at a time and place that they choose.
"With the anxiety programme for young people, they can download the app to any device so it feels very accessible. It gives more choice for those young people who prefer a digital way of working. They can access the programme at any point that suits them, it's not set to a particular session time." Helen McGlinchey, Northpoint Wellbeing
SilverCloud also offers support to parents and carers, through their 'Supporting an Anxious Child or Teen' programme. For example, if a young person is receiving face-to-face therapy their parent or carer can work through the digital programme at the same time.
Northpoint Wellbeing has found combining digital and in-person therapy to be really effective and they've been able to integrate it into their service offering a way that best meets the needs of young people and their families.
"An important element has been the link developed between Mayden and Silvercloud which means we can reflect on all of our data from the anxiety programmes. The two systems communicate with each other so all of that data gets pulled through (to iaptus CYP for us to view.)" Helen McGlinchey, Northpoint Wellbeing
Therapists can quickly and easily refer young people to digital therapy options from the individual's clinical record in iaptus CYP with progress notes sent securely back for monitoring and reporting. All of the data from the young person's engagement with the digital therapy programme is securely stored and managed in iaptus CYP. The service provider can regularly review the progress of young people working through the programme, what stage of care they're at and when they've completed it. Clinicians can then reflect on the data and use it to inform their sessions with the young people in their care.
Get in Touch:
Many children and young people's mental health services, like Northpoint Wellbeing, are growing and diversifying their service offer. Continuing to offer high quality care to children, young people and their families in need of support is at the core of everything these services do. Digitally enabled therapies, therefore offer a valuable option to evolve services and help meet rising demand.
If you're interested in integrating digital options into your care pathways, as Northpoint Wellbeing has done, and would like to hear more about how digitally enabled therapies can help your service to support the children and young people in your care, please get in touch.
Alternatively you can sign up to one of our upcoming webinars for providers of mental health support teams in schools.