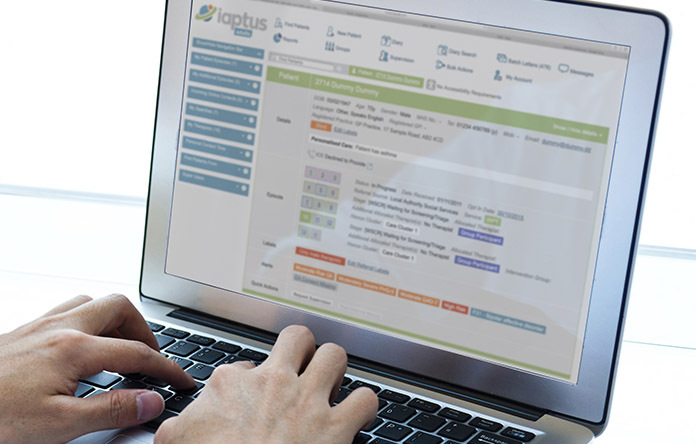 Our patient management software, iaptus, is a user-friendly, cloud based and completely customisable software system that supports university counselling services by reducing administrative burden and streamlining the way care is delivered.
iaptus supports universities just like yours with the technology needed to deliver high quality care to your student population, and manage their care efficiently and securely. Our software is perfectly placed to support your student counselling services, helping your organisation work more efficiently whilst improving the student experience. iaptus works to give mental health practitioners a clear view of a student's treatment, guiding staff through a workflow to ensure that care remains consistent.
Transformative benefits of using iaptus to support student counselling services:
Free up clinical time and reduce unnecessary admin.
Improve consistency and quality of care.
Increase student retention and engagement with streamlined therapy.
We are an ISO27001 accredited organisation so you can have peace of mind that confidential information is stored safely and securely.
Our patient management software is trusted by over 65% of NHS psychological therapy services, and over 17,000 clinicians both in the UK and abroad. Our developers have built iaptus to be fully flexible, so you can simply implement the features you need and only pay for the bits you want.
If you would like to hear more about how iaptus can help your student counselling services, join our upcoming webinar: University Student & Staff Counselling at 10am on the 12th May 2022. Reserve your place here.
During the 45 minute session we will explore how iaptus can support your service to manage referrals and coordinate care in a way that is efficient and secure. We will also be sharing our key findings which we have learnt throughout the course of supporting mental health services across the country. You will then have the opportunity to learn and ask questions on how iaptus can improve the student experience and increase service efficiency.
If you can't make the webinar but would like further information on how iaptus can support your service, simply get in touch with us today to see how we can help.